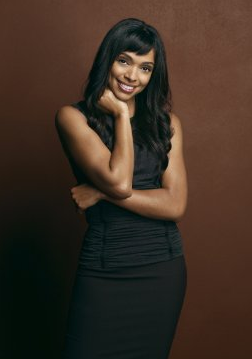 Booth y Brennan investigan un asesinato en un campo de fantasía de rock-and-roll el (abril 29) del episodio del jueves de "Bones", pero, francamente, Korbi TV está un poco más entusiasmado con algo más que pasará durante esa hora: La llegada del novio de Cam!
Hablamos con Tamara Taylor (Cam), que nos dio un poco más sobre la forma en que la relación funciona.
"Cam consigue un amor y es como amar y perder", dice en la entrevista en el video. "No es perder el amor, pero podrás ver [lo que quiero decir cuando salga al aire el final de temporada]. No hay mucho más que pueda decir. El final de temporada, va a dejar a la gente preguntándose qué sucede después."
Así es Tamara preguntando qué pasa después?
"Los escritores siempre me sorprenden", dice. -"Es interesante, porque no sé cómo vamos a empezar la temporada 6. Es algo realmente curioso e interesante. Espera hasta llegar a la temporada final ... creo que cubrimos una gran distancia entre el episodio 100 y el final. "
Taylor también deja caer una sugerencia acerca de nuestro favorito agente del FBI, lo que sugiere que podría no tener el certificado de salud que pensamos que tiene.
"Hay alucinaciones del tumor cerebral de Booth que sigue dando vueltas, por lo que la historia no ha muerto", dice. "Así que va a ser interesante ver. Sabemos que amaron el episodio 100, asi que va a ser interesante ver qué le parece el final."
¿Y qué decir de su título, "The Beginning in the End"? ¿Cuánto se aproxima el final de la temporada final de este año en paralelo al final de temporada del año pasado, que se tituló "The End in the Beginning"?
-"Bueno, es interesante porque cualquier persona que está prestando atención va a notar que hay guiños al final de la temporada pasada, pero no lo que usted piensa, " dice Taylor. "Al igual que poco tonto extravagantes asiente con la cabeza."